Welcome to Furthering IPv6 in the Rocky Mountains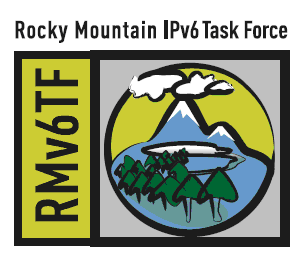 La IPv6 Task Force de las Montañas Rocallosas (RMv6TF) es un sub-capítulo regional de la IPv6 Task Force de América del Norte. La IPv6 Task Force se dedica a la promoción y adopción del protocolo de Internet versión 6 (IPv6).
La RMv6TF IPv6 promueve y trabaja para educar a la comunidad sobre IPv6 y sus beneficios. La RMv6TF lleva a cabo investigación, desarrollo y casos de estudio de tecnología y servicios con IPv6, compartiendo este conocimiento con el público. La RMv6TF trabaja para llevar a cabo eventos locales centrados en IPv6 y promover el uso de IPv6 en la región de las Montañas Rocallosas. RMv6TF es una organización sin fines de lucro / exenta de impuestos que la industria y el gobierno pueden recurrir en busca de orientación sobre información de la transición a IPv6, así como asesoramiento sobre las mejores prácticas y soluciones que implican el uso de IPv6.